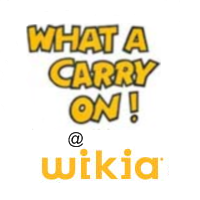 Welcome to the What A Carry On Wiki
Edit
The Carry On films are a series of low-budget British comedy films, directed by Gerald Thomas and produced by Peter Rogers. They are an energetic mix of parody, farce, slapstick and double entendres.
Twenty-nine original films and one compilation were made between 1958 and 1978 at Pinewood Studios, with an additional movie made in 1992.
Describe your topic
Edit
Write a description about your topic. Let your readers know what your topic is about and add some general information about it.
Latest activity
Edit